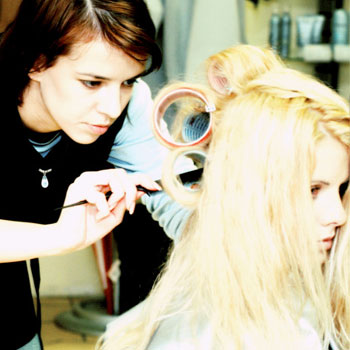 Imagine you run into a high school friend whom you haven't seen in 20 years; you hug, you quickly play catch-up and she says; "You haven't changed a bit!"
It's easy to take that as a compliment, particularly if you were prom queen and head of the cheerleading squad, but if part of that "trapped in a time warp" phenomenon includes your hair (and Aqua Net), it's probably time to consider an update.
Though some women can pull off a singular hairstyle through their whole life-think: Vogue editor Anna Wintour and her signature pageboy bob-most of us should update our look as we age and circumstances in our lives change.
You don't have to completely let go of the girl you were or reinvent yourself every 3 months, but know that holding onto the same hairstyle from 1986 isn't going to do much for your appearance other than to make you look dated and afraid of a change.
5 Signs You're Ready for a New 'Do
On the fence about whether it's time for a new look? Here are the top 5 signs that you're ready for a new 'do:
You've asked for "The Rachel" any time in the last year.
The stylist asks "The usual?" every time you sit in her chair.
You have the same cut as any of your children (that only works for Katie Holmes and Suri Cruise).
Every morning, after 30 minutes of wrestling with your locks, you fold and acquiesce to yet another day of ponytail hair.
You're bored with it!

When Your Haircut Adds 5, 10...20+ Years to Your Look
One of the most common reasons for needing to update your hairstyle-aside from the desire to keep up with trends-is tied to age. As we get older, our estrogen levels drop. With this hormonal shift comes a change in the hair's texture and body.
You may notice that your hair is thinning or less shiny than it used to be. Your hair may be more susceptible to the damage of chemical treatments and heat styling products. At this stage, a shorter cut with more layers can lend much needed body and the type of bounce that is associated with those youthful beauties in Vidal Sassoon commercials.
Some women hold onto the long, single-layer locks of their flower child youth with the mistaken belief that this will make them appear younger. In reality, this type of hairstyle can weigh your face down and add unnecessary years to your appearance. Ask any stylist worth their weight in pomade and they'll tell you; layers around the face can soften your look and won't accentuate wrinkles and fine lines the way a single-length cut will.
When Your Haircut Is Unflattering to Your Frame/Face/Features
If you're feeling less-than-excited about your appearance, consider that an unflattering haircut may be the culprit. The wrong haircut for your face shape, texture or facial features can significantly alter the appearance of your face. Talk to a stylist who will take the time to really evaluate your hair AND your face. They can guide you on the type of cut that will play up the parts of your face that you're most excited about and downplay the aspects that you are less thrilled with.
While it may be tempting to ask your hair dresser to give you the hottest celebrity hairstyle-Halle Berry's sexy pixie or Nicole Richie's longer, messy layers-be realistic with your expectations and be open to your stylist "modifying" the trend to suit your face.
Another important point to remember is that our faces change as we age or fluctuate in weight, and your hairstyle needs to adapt. Longer locks may have worked when you had full cheeks and a baby face, but if you've lost a lot of weight in recent years, that excess hair might be dragging you (and your face) down.
When Less is More
For some women, it's hard to let go of the past, part of which may include the ability to pull off a super trendy, edgy 'do. But if you're working as the regional manager of a successful banking operation, or teaching literature to a group of 13-year-olds, you need to find a look that is more appropriate for the situation. This may mean letting go of a more "youthful" hair style or learning to say "no" to the hottest, most trendy styles, or at least finding a more subdued, professional version.
Hair color is one of the areas where less may be more. If you've been bleaching your hair since the 80s, it might be time to talk to your stylist about transitioning to something a little less drastic. Years and years of chemically treating your hair with harsh lighteners can take its toll. Switching to a darker shade of blond may be all the change you need.
The same can be said for women who darken their hair. Nothing looks as severe as a gorgeous woman with a naturally aging face and unnaturally dark locks. A skilled colorist can help you to find a more neutral shade that will soften any lines you may have. If you're one of the lucky women whose hair has turned silver with age, embrace your good fortune and consider going au natural for a change! You might be pleasantly surprised to see what a reaction you get.
If you have been chemically straightening or relaxing your hair for longer than you can remember, talk to your hair dresser about more natural alternatives. It may be more flattering to instead cut your hair and use their recommended hair products to create beautiful waves or curls that flatter most any face.
Little Changes That Can Update Your Look In No Time Flat
Want a cheaper, less permanent way to change your look? You don't have to rush out to the salon every time you need to update. Try these few cost-effective tricks at home:
Switch up your part. If you have been rocking a side part for most of your adult life, throw a wrench in the works by trying a center part for a few weeks and see what people say.
Try a headband, trendy barrette or hairpin.
Experiment with a hip "vintage" hairdo; think, Maggie Gyllenhaal's adorable twists and tendrils, or Audrey Hepburn's classic updo. You can find plenty of videos on YouTube that provide easy tutorials on how to achieve a fun new look.