Asian Sea Bass
There's nothing fishy about this phenomenal recipe with an Asian twist. The sea bass is so moist it practically melts in your mouth. Just one bite, and you'll be hooked!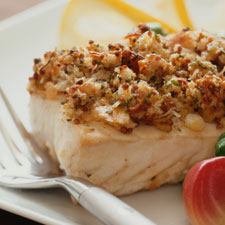 Ingredients
For 1 people
1

portion sea bass steak

24

teaspoon(s)

grated Parmesan cheese

1/2

cup(s)

Japanese bread crumbs

1/4

cup(s)

flour

4

ounce(s)

egg wash

1/2

cup(s)

cooked navy beans

1/4

cup(s)

demi-glace

4

tablespoon(s)

sweet Thai chili sauce

3

ounce(s)

seasoned white rice

1/8

cup(s)

leeks, julienne

1

lemon slice
Directions
1. Mix breadcrumbs and Parmesan.
2. Flour sea bass, roll in egg wash and coat with breadcrumb mixture.
3.Sauté fish over medium heat until golden brown.
4. Finish cooking fish in oven until desired temperature.
5. Place warm rice on plate with navy beans around the rice. Place fish atop rice; sauce with demi-glace and Thai sauce. Garnish with leeks and lemon.

Demi-glace is a rich brown meat sauce.
Nutrition facts
Kcal: 1475.25 kcal
Fibers (g): 14.67g
Sodium (mg): 4054.81mg
Carbs: 199.95g
Fat: 34.3g
Saturated fat (g): 14.56g
Proteins: 94.54g