Dal
There's plenty of reason to stew over this gourmet Indian soup. Prepared with lentils and a host of appealing spices, it's a simple way to bring an exotic dish to an otherwise dull dinner. Stir things up tonight with some homemade dal.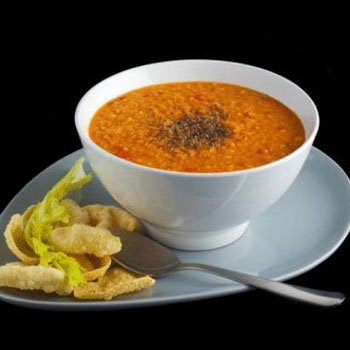 Ingredients
For 8 people
2

cup(s)

dried lentils, rinsed and picked over

1

onion, roughly chopped

1

cup(s)

fresh ginger, 2-inch piece, peeled and minced, or as much as it gives you

3

garlic cloves, minced

1

tablespoon(s)

curry powder (hot or mild, your preference)

2

teaspoon(s)

ground cumin

1/8

teaspoon(s)

2 dried red chilies (or hot red pepper flakes or cayenne pepper, to taste)

4

tomatoes, cored and roughly chopped (optional)

1

dash(es)

salt, to taste

1

dash(es)

pepper, to tatse
Directions
Add the first 8 ingredients to a large pot, along with water to cover. Bring to a boil over high heat; adjust heat so the mixture simmers steadily but not violently. Cook, stirring occasionally, until the lentils are soft, about 1 hour. Season to taste with salt and pepper; serve or cover and refrigerate for up to several days before reheating.
Nutrition facts
Kcal: 103.86 kcal
Fibers (g): 10.93g
Sodium (mg): 31.45mg
Carbs: 26.33g
Fat: 0.4g
Saturated fat (g): 0.07g
Proteins: 9.31g