Dutch Pancakes
Want a breakfast that won't disappoint? Go Dutch. If you want flapjacks to flip over, this is your recipe. We promise they definitely stack up against other morning meals.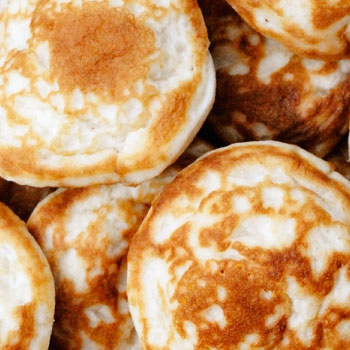 Ingredients
For 8 people
6

egg, whole, raw, fresh

1

cup(s)

whole milk

1

cup(s)

flour, all

1/2

teaspoon(s)

salt, table

2/3

cup(s)

butter, salted

1 1/2

cup(s)

sugars, granulated

3/4

cup(s)

buttermilk

2

tablespoon(s)

syrups, corn, light

1

teaspoon(s)

baking soda

2

teaspoon(s)

vanilla extract

1

teaspoon(s)

confectioners powdered sugar
Directions
Place the eggs, milk, flour and salt in a blender; cover and process until smooth. Pour the butter into an un-greased 13-in. x 9-in. x 2-in. baking dish; add the batter. Bake, uncovered, at 400 degrees for 20 minutes.
Meanwhile, in a saucepan, combine the first five syrup ingredients; bring to a boil. Boil for 7 minutes. Remove from the heat; stir in vanilla. Dust pancake with confectioners' sugar; serve immediately with the syrup.
PREP TIME 10 Min
COOK TIME 20 Min
READY IN 30 Min
Nutrition facts
Kcal: 485.29 kcal
Fibers (g): 0.5g
Sodium (mg): 391.08mg
Carbs: 71g
Fat: 19.32g
Saturated fat (g): 11.08g
Proteins: 8.26g