Heart Healthy Sandwiches
When you're planning your lunch for the day, think outside of the box. Hitting the local sub shop can cost you cash and calories. Why not opt for one of these healthy heroes that are the best thing since sliced bread?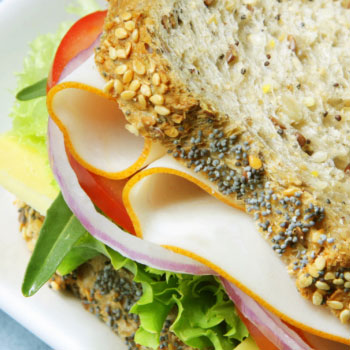 Ingredients
For 1 people
2

slices linseed rye bread

2

slice lean meat, such as chicken, turkey, smoked meat, beef or lean ham

3

lettuce leaves

3

thin tomatoes, slices

4

thin cucumbers, slices

1

dash(es)

pepper

1

teaspoon(s)

mustard
Directions
Put mustard on both pieces of bread. Put lettuce on one slice. Top with tomato, sprinkle with pepper. Top with meat, cucumber and remaining piece of bread. Cut in four and wrap in plastic wrap or put in plastic sandwich container. Refrigerate until use.
Nutrition facts
Kcal: 352.42 kcal
Fibers (g): 15.02g
Sodium (mg): 817.74mg
Carbs: 49.72g
Fat: 5.55g
Saturated fat (g): 0.12g
Proteins: 17.79g