Low-Fat Brownies
If you're looking for a way to score some brownie points with your loved ones, this delicious dessert will do the trick. The best part is that you can indulge in this low-fat dessert without putting a dent in your diet.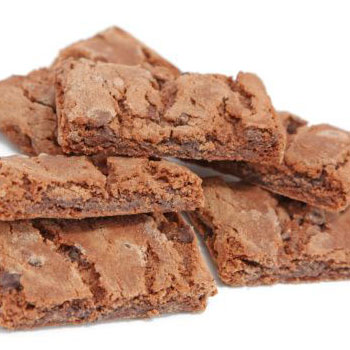 Ingredients
For 2 people
1/2

cup(s)

egg substitute

28

tablespoon(s)

fat free sweetened condensed milk

1

teaspoon(s)

vanilla extract

1 1/3

cup(s)

all-purpose flour

1 1/4

cup(s)

sugar

12

tablespoon(s)

baking cocoa

1

teaspoon(s)

baking powder

1/2

teaspoon(s)

salt
Directions
In a mixing bowl, beat egg substitute for 1 minute or until frothy and slightly thickened. Stir in milk and vanilla. Combine the flour, sugar, cocoa, baking powder and salt; add to the egg mixture and mix well.
Pour into a 13-in. x 9-in. x 2-in. baking pan coated with nonstick cooking spray. Bake at 350 degrees for 18-22 minutes or until a toothpick inserted near the center comes out clean. Cool on a wire rack.
PREP TIME 15 Min
COOK TIME 20 Min
READY IN 35 Min
Nutrition facts
Kcal: 1617.7 kcal
Fibers (g): 14.73g
Sodium (mg): 1089.46mg
Carbs: 373.28g
Fat: 3.01g
Proteins: 48g