Parmesan Garden Salad
A bright and sweet vinaigrette with lemon and basil makes a perfect topping for this simple garden salad that spotlights Parmesan cheese and cherry tomatoes. And because it's a low-fat, low-calorie meal, this is one dish you won't feel guilty super-sizing.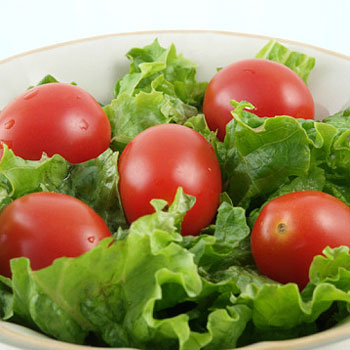 Ingredients
For 2 people
4

tablespoon(s)

fresh parmesan cheese

1

tablespoon(s)

olive oil

2

tablespoon(s)

fresh lemon juice

2

tablespoon(s)

fresh basil

8

cherry tomatoes

4

cup(s)

romaine lettuce
Directions
Mix the Parmesan, basil, lemon juice, and olive oil together to create dressing. Rinse the tomatoes and the romaine. Tear or chop romaine. Halve tomatoes. Place romaine and tomatoes in a mixing bowl or salad bowl. Toss with the dressing and serve.
Nutrition facts
Kcal: 135.73 kcal
Fibers (g): 3.29g
Sodium (mg): 163.92mg
Carbs: 11.52g
Fat: 10g
Saturated fat (g): 2.96g
Proteins: 3.25g