Thai Chicken Wrap
It's time you gave this chicken wrap a Thai. Stuffed with a ton of fresh ingredients, this poultry-driven wrap is satisfying any time of day. It's sure to be a feather in your cap. When you're searching for a sandwich substitute, this is it.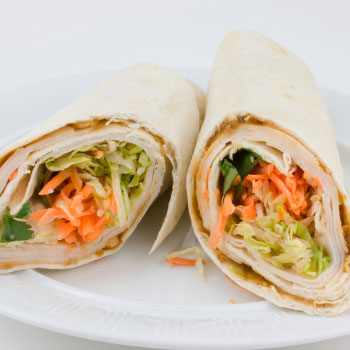 Ingredients
For 6 people
12

ounce(s)

boneless skinless chicken breast

1/2

teaspoon(s)

garlic salt

1/4

teaspoon(s)

pepper

6

8-10-inch plain, red or green flour tortillas

1

tablespoon(s)

oil

4

cup(s)

packaged shredded broccoli (broccoli slaw mix)

1

medium red onion, cut into thin wedges

1

teaspoon(s)

grated fresh ginger

1

tablespoon(s)

Thai peanut sauce

3

tablespoon(s)

white or brown sugar

1/4

cup(s)

creamy peanut butter

3

tablespoon(s)

soy sauce

1 1/2

floz

water

2

tablespoon(s)

cooking oil

1

teaspoon(s)

minced garlic

1/8

teaspoon(s)

Tobasco
Directions
Slice the chicken into thin strips for stir-frying. Season with garlic salt and pepper; heat the oil in a large skillet and cook the seasoned chicken over medium-high heat for 2-3 minutes, or until no longer pink. Remove from skillet and keep warm. Add the shredded broccoli, onion, and ginger to the hot skillet; stir-fry for 2-3 minutes or until vegetables are crisp-tender.
Wrap the tortillas in paper towels and microwave on high power for 30 seconds to soften. Or wrap tortillas in foil and heat in a 350-degree oven for 10 minutes.
To assemble, spread each tortilla with about 1 tbsp. Thai peanut sauce. Divide the chicken strips and vegetable mixture among the tortillas and roll them up, securing with toothpicks. Serve remaining peanut sauce on the side.
To make dipping sauce, combine remaining ingredients in a small saucepan and heat until sugar is dissolved, stirring frequently. Cool and serve with wraps.
Nutrition facts
Kcal: 366.66 kcal
Fibers (g): 3.33g
Sodium (mg): 1517.12mg
Carbs: 36.06g
Fat: 16.78g
Saturated fat (g): 2.29g
Proteins: 21.3g