Choco-pudding Cake
This simple, decadent chocolate cake melts in your mouth. The proof is in the pudding - and you'll only need one bite to add this one to your regular recipe repertoire.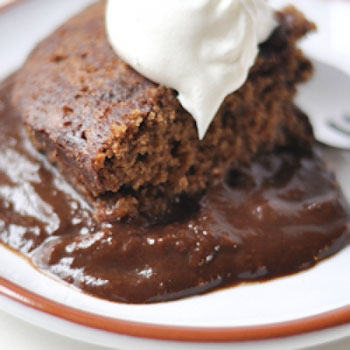 Ingredients
For 8 people
1

cup(s)

cup semi-sweet chocolate chips

2

cup(s)

milk

1

teaspoon(s)

vanilla extract

1

puddings, chocolate, dry mix, instant

1

1 box chocolate cake mix
Directions
Preheat oven to temperature indicated on cake mix box. Spray a 13x9-inch baking dish with cooking spray.
In a large mixing bowl, combine chocolate pudding mix with milk. Whisk until smooth. Add in chocolate cake mix and beat until well blended. Fold in chocolate chips. Pour mixture into baking dish and bake according to cake mix instructions. Remove from oven and cool completely before icing, if desired.
Nutrition facts
Kcal: 194.7 kcal
Fibers (g): 1.79g
Sodium (mg): 247.94mg
Carbs: 28.41g
Fat: 9.04g
Saturated fat (g): 5.53g
Proteins: 3.16g