Fluffy Fruit Salad
A four seasons fruit salad! A light and creamy treat you can enjoy anytime of year. Add lettuce to make it a fruity salad. Make your brunch time a little more fluffy and fruity!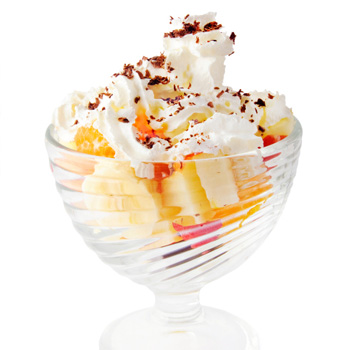 Ingredients
For 10 people
20

ounce(s)

(1 can) unsweetened pineapple tidbits, drained

2

cup(s)

(1 16-oz. can) whole berry cranberry sauce

1 1/2

cup(s)

(1 11-oz. can) mandarin oranges, drained

1

cup(s)

(1 8-oz.) carton frozen whipped topping, thawed

1/8

tablespoon(s)

grate dorange peel (0.5 tsp)

14

lettuce leaves (optional)

1/2

cup(s)

pecan halves, toasted
Directions
In a bowl, combine pineapple, cranberry sauce and oranges. Fold in whipped topping and orange peel. Serve on lettuce if desired. Garnish with pecans just before serving. Store leftovers in the refrigerator.

READY IN 10 Min
No cooking needed
Nutrition facts
Kcal: 195.2 kcal
Fibers (g): 1.53g
Sodium (mg): 40.65mg
Carbs: 34.81g
Fat: 5.19g
Saturated fat (g): 1.25g
Proteins: 1.25g