Meatballs with Ginger & Pineapple
If you're looking for a healthy recipe that will resonate with your children, have a ball with these tender turkey and pork meatballs with a tropical twist. Prepared with pineapple and ginger, they're bursting with flavor. They also make a great opener for any gathering.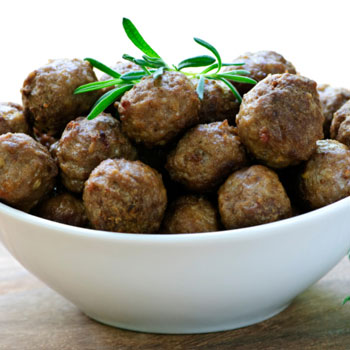 Ingredients
For 6 people
1

pound(s)

ground turkey breast (97% fat-free)

1/2

pound(s)

ground pork tenderloin

1

tablespoon(s)

finely minced ginger

2

tablespoon(s)

oyster sauce

1

tablespoon(s)

lite soy sauce

2

teaspoon(s)

peanut oil

2

cloves garlic, minced

1

cup(s)

diced carrot, peeled

2

cup(s)

low fat, low sodium chicken broth

1

cup(s)

pineapple juice

2

tablespoon(s)

pineapple juice concentrate, do not dilute

2

tablespoon(s)

brown sugar

1

tablespoon(s)

cornstarch or arrowroot powder

2

tablespoon(s)

water
Directions
Heat the oven to 350 degrees. Combine the turkey, pork, ginger, oyster sauce and soy sauce in a large bowl and shape into meatballs. Place the meatballs, in a non-stick baking dish and bake, covered, for 15 minutes. Heat the oil in a skillet over medium-high heat. Add the garlic and sauté for 30 seconds. Add the carrots and sauté for 4 minutes. Add the broth and pineapple juice and bring the mixture to a boil. Lower the heat, add the pineapple juice concentrate and brown sugar, and simmer for 5 minutes. Mix the cornstarch with the water and add it to the sauce. Cook until thickened, about 3 minutes. Uncover the meatballs and add the sauce. Bake for 10 minutes and serve.
Nutrition facts
Kcal: 194.5 kcal
Fibers (g): 1.12g
Sodium (mg): 595.12mg
Carbs: 40.34g
Fat: 2.2g
Saturated fat (g): 0.41g
Proteins: 3.17g