Chicken with Eggplant
Get ready to be egged on. We use eggplant as the bedding for this fabulous chicken medley. This Italian-inspired recipe isn't just good -- it's good for you. We've got the veggies to prove it.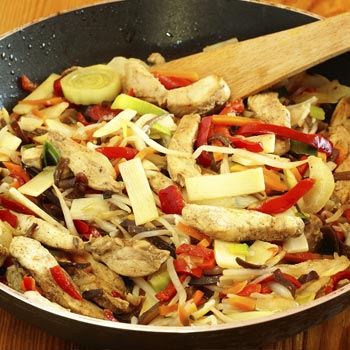 Ingredients
For 6 people
3

whole chicken breasts, halved and de-boned

1/2

teaspoon(s)

salt

1/4

teaspoon(s)

paprika

1/2

cup(s)

butter

1

medium eggplant, peeled and cut in 1/2-inch slices

1

clove garlic, chopped

1

green bell pepper, cut into strips

2

zucchini, cut into 1/2-inch slices

3

tomatoes, peeled and diced

1/10

tablespoon(s)

Tabasco sauce

1/4

teaspoon(s)

thyme

1/4

teaspoon(s)

oregano

1/8

cup(s)

chopped parsley
Directions
Sprinkle chicken with salt and paprika. Heat butter in skillet and brown chicken. Remove chicken from skillet. Saut eggplant in skillet and place in buttered casserole. Add onion, garlic and green pepper to skillet and cook until tender. Add zucchini and tomatoes and cook until tomatoes are cooked down and part of liquid evaporated. Add remaining Tabasco and herbs to mixture. Arrange chicken over eggplant and spoon tomato mixture over chicken; bake uncovered at 350 degrees for 45 minutes or until chicken is done. Baste several times.
If you're hungry for more healthy Italian recipes, check out these divine dishes.

Ready in 1 hour
Nutrition facts
Kcal: 282.03 kcal
Fibers (g): 4.48g
Sodium (mg): 697.32mg
Carbs: 11.97g
Fat: 17.1g
Saturated fat (g): 10.07g
Proteins: 20.66g